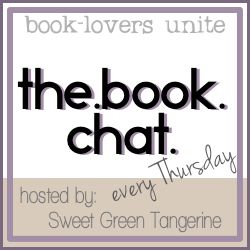 One of my favorite things about each week's book chat is how it makes me look at what I read. I've discovered a lot of new books and authors I most likely wouldn't have found on my own but I've also realized more about my own habits. I
know
that I don't like to read books about tough issues. Reading is my happy place. I see enough sad in the world from the news that I don't choose to read an in-depth book about what horrible things that happened. I also
know
that I shy away from books that have a high guaranteed sad ending.
But back to my reason why I love the book chat- I thought that I avoided books on tough issues or controversial ones and I sort of do, at least in the adult world. When I was going over my "read" list on Good Reads I realized that I have read books on tough issues and almost all of them are in the Young Adult/New Adult genre. This was news to me because I've never considered myself a YA reader.
Perhaps I've never read tough issue books from the best seller list because I'm afraid they will make me sad. I
know
I avoid ones involving children like a
Child Called It
because I
know
I can't handle the subject matter.
But something about reading these New/Young Adult books strikes a cord with me. Although I've never personally dealt with any of the issues these characters have faced; I've led a pretty quiet life, each one brought me right into the middle of the characters worlds. Reading each book left me sad, crying in some cases, and yet in awe of the survivors at the end. Each book makes me
feel
. I've learned this week that I do read the tough issues books and I have my own niche that I turn to. Thanks book chat.
What tough issues or controversial books do you pick up? Is there any particular category that you go for?