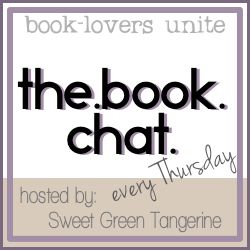 Can I just tell you how happy I am that the book chat is back? Jessica at
The Tangerine
is back in the land of the internet and this week's theme is let's catch up.
I have been a reading fool this summer. Why more than usual? Well I've had some great books that have come across my Kindle and to review and I couldn't be happier. I've been seeking out more books and reading out of my comfort zone and I'm loving the wonderful stories that I've opened myself up to.
It's a pretty big list so let's get started...
What I've been reading
just a few pre-orders
what's next on my to-be-read list
old favorites that i've re-read
summer challenges and read-a-thons
So yeah, it's been a busy summer for reading but I've loved every minute of it. The kids get outside and run off all of their energy and I've got a good tan.
What have you been reading this summer?