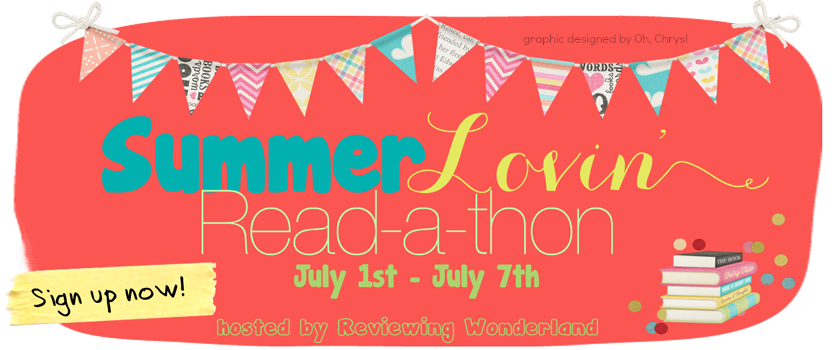 I have so much planned for July in terms of projects that it's a little overwhelming but I'm excited to start it off with the Summer Lovin' Read-a-thon. I have ridiculously large TBR pile at the moment and I'm determined to make a dent in it this month.
For those of you who don't know, Summer Lovin' starts today (July 1) and runs through this Sunday (Julu 7). It's a no-worry Read-a-Thon, the point is to have fun and to make a dent in your summer TBR pile. Everyone sets their own goals and their are week-long posts, challenges, and giveaways too. The party ends with a 24 hour read-a-thon that begins Saturday July 6th at 10am EST and goes to Sunday July 7th at 10am EST. If you haven't signed up yet, don't worry, signups go on until July 6th.
Let's get started...
Day One - Class Orientation
About Me...
My name is Brighton and I'm from a small town in West Michigan. I've been blogging for just over a year and just recently settled into blogging about my love of books. I've always been a reader. The very first book I can remember reading myself was a Care Bears Nursery Rhyme book. Do you remember when grocery stores used to sell a special book each week if you bought a certain product? Yes? No? Maybe that dates me a little but my Grandpa bought a lot of canned corn and potato chips that summer.
My favorite genre has always been romance. I love a good happily-ever-after. I've always been a contemporary girl but recently I've ventured out of my comfort zone to read YA, paranormal and some dysotopian stories. My friends at the book.chat have really helped me broaden my horizons and have some great recommendations too.
My Goals...
I'm also started a summer reading challenge with Megan at
Semi-Charmed Kind of Life
so I'm going to include some of the books on my list for that in my goals. I also have a few that I have reviews ARC's to get started on so I'm going big in my goals with reading 5 books this week. I know it's a lofty goal with the Fourth of July celebrations this week but the weather is supposed to be wonderful (most) of the week. Good weather + good good = great reading.
I'll be updating my progress on twiter throughout the week.
My Books...
The Perks of Being A Wallflower | Walking Disaster | The Dominant | More Than Rivals | Tangled


Challenge One: Teaser Tidbits
The week's first challenge is to post a teaser from the book you currently reading..

The Rules...
*Grab the book you're currently reading (or recently read)

*Open to a random page

*Share two (2) "teaser" sentences from somewhere on that page NO spoilers allowed! Choose passages void of spoilers. The goal is to entice, yet not ruin the book for others!

*Share the title & author, so that other participants can add the book to their TBR lists if they like your teasers!
I'm just finishing up
Beautiful Stranger
and I'm sad because it's one of those books are so amazing I hate when it's over. I'm reading the ebook so instead of flipping though the screen I choose at random two quotes that I had highlighted when I was reading.
"When my old life died, it didn't go quietly. It detonated."
"Sara, I don't mind being your distraction but at least be honest with me about it. Something's wrong."
"I'm fine." But she wasn't fine. She wouldn't have come here if she were.
I'm really loving Max Stella. I'll have more from the read-a-thon throughout the week so check back often to see how I'm doing.