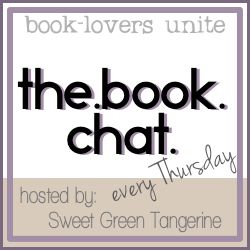 I have to admit that Young Adult Literature is not something I know a lot about. When I was a "young adult" I was mostly reading Sweet Valley, Fear Street and the occasional Harlequin novel that I'd find at my Grandmother's. Now Young Adult is a genre all on its own and some of the books recently published are extremely well written and deliver powerful messages.
Mainstream Books
Some of the first young adult books I've read are ones that are more mainstream popular and
everyone
has read them. And I mean everybody because even the book.chat's leader Jessica at
Sweet Green Tangerine
has finally read Harry Potter. :) At first I read each book because of the hype and my boss at that time practically shoved The Sorcerer's Stone into my hands. And then I loved each one enough to where I either downloaded the rest of the series immediatley or waited (or had my husband) in line at midnight to buy the next book.
Popular Series
Now when I think of Young Adult I think of authors like Sarah Dessen, Katie McGarry and Veronica Roth. Sarah Dessen's books cover a range of teenage troubles and can make me forget that the characters are younger than me. In a good way though, and not like the kids on Dawson's Creek used to talk older than they were. Katie McGarry is a newer author to me but the emotions she puts into her characters makes me feel right along with them. I wondered if I should place Veronica Roth above in the mainstream category but I'm still waiting to read the Divergent series until the last book comes out. I don't handle cliffhangers well and I'd rather read all of them straight through, am I right?
I'm not sure if it's a body of work that makes a classic or how well a book is received but The Fault In Our Stars, If I Stay and Eleanor & Park so well written that they should be. Each tackle issues teenagers struggle with or life experiences that they don't yet have the tools to deal with and do it in a way that even adults can identify with.
My "read" pile doesn't include many Young Adult books but my "to-be-read" pile is steadily growing with titles from this genre. I also found this article from Mashable,
15 Young Adult Books That Every Adult Should Read
, that also listed some really great books.
Do you have any suggestions of Young Adult books that I need to read?