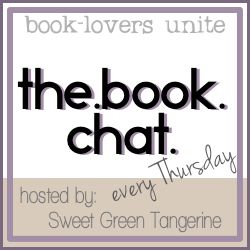 You should know that I was not raised a cook. My family worked in restaurants while I was growing up so all I had to do was go downtown and someone would feed me. It lead to lots of time hanging out at the local coffee table and was very convenient during my high school years. It also limited the variety of foods I liked and my cooking skills were zero. But boy could I reheat leftovers in the microwave. When the hubby and I got married it turned out that he was a far better cook than me. We still spent a lot of time in restaurants and it was still that convenience factor and my lower-than-average skills that contributed again.
I'm going to be honest here- my cooking skills are still only better than average. I have a few Betty Crocker cookbooks and a huge Better Homes and Garden cookbook but I've found my cooking talent is actually in baking.
So when
Jessica
announced that this week's book chat topic was cookbooks, I was sure about what to share. While I am a okay cook, I am genius in the over. Oh yes, I can bake. And I like it. I don't bake as often as I'd like because really, that many cookies and cakes and pies would wreak havoc on my waistline, but I love the chances I get. I go all out on cakes for the kids birthday parties and I make a crazy amount of cupcakes for bake sales.
I also love making things in jars. Aren't things cuter when they are in a Mason jar? Even little mini pies are adorable. I'm pretty sure since they are mini you can eat more right? Makes sense to me.
Decorating Cookies: 60+ Designs for Holidays, Celebrations & Everyday
SprinkleBakes: Dessert Recipes to Inspire Your Inner Artist
1,000 Ideas for Decorating Cupcakes, Cookies & Cakes (1000 Series)
Big Book of Cupcakes: 150 Brilliantly Delicious Dreamcakes
100 Easy Recipes in Jars
Desserts in Jars: 50 Sweet Treats that Shine
Cutie Pies: 40 Sweet, Savory, and Adorable Recipes
Mini Pies: Adorable and Delicious Recipes for Your Favorite Treats
I have all of these cookbooks either in digital or hardcover and they are full of wonderful recipes and amazing pictures. What are your favorite cookbooks?