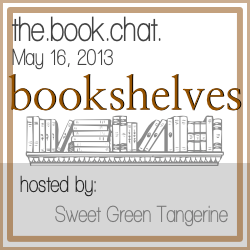 I love that this week's book.chat with
Sweet Green Tangerine
is all about bookshelves. I love looking at bookshelves on Pinterest. And if I've never been to your house before, I'm not checking out your medicine cabinet, I'm looking at your bookshelves.
I think what people have on their bookshelves tell a lot about them. Right now though if you walked into my house you wouldn't know I was a big reader because all of my books are hidden away in my room.
Why are they hidden away in my room?
Well because I had two little boys in a row who like to take all my books off the shelves and play with them. And by "play" with them I mean throw them at each other, use them as rocks in their moats and chew on them when they were teething. It's only my books too. They are as nice as can be to all their books.
So I'm showing off my love of book nooks. When I was little I made myself a little book nook in the back of my closet and I loved it. I would spend hours hiding away in my closet with all my favorite books and my beanbag. Gotta have the beanbag. I have a little corner of my bedroom where I have a small chair and stand to curl up in but I have big dreams of a book nook like the ones below someday.
I'm planning on (hopefully) making an area like this for the kids to read in this summer.


But this one is absolutely amazing. And the curtains are really pretty too.

If I could make myself one I like the idea of little twinkle lights.

If I had something like this though I'd probably never, ever leave it.

But it would be kind of neat to be able to spy down on everyone.
And I'd like to convince my husband that we need to do this on the stairs. If he can turn a chainsaw into a mailbox post I think he can manage this, right?