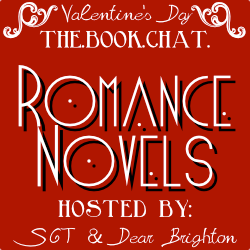 I am so excited to be co-hosting the book chat with Jessica again this week and it's all about a topic that I love (as if you didn't know). Romance Novels.
A genre of fiction involving love and lust. Novels in this genre place their primary focus on the relationship and romantic love between two people, and must have an emotionally satisfying and optimistic ending.
Oh, the day of romance. I want to start out with a confession...as much as I love my happily ever after books, I am not that much of a romantic in real life. It may have a little to do with my husband. He's not really a romantic either. He's not into the fancy dinners and big cards that say " I love you". He's more of a practical person. One year he bought me a new camera because I "needed a new camera and I didn't need flowers that were going to die in a week and were majorly overpriced right now anyway." He has such a way with works. But I did enjoy the camera for a long time.
So I indulge my love of romance through books which after my family is my greatest love in life. Did that sound really cheesy? Anyway romance novels have been around for ages. One of the earliest romance novels was actually written by a man in the mid-1740s. Seriously. It wasn't until the next century when Jane Austen wrote Pride and Prejudice that the popularity of romance novels began to grow.
Many consider these books as the mother of all romance novels. The times have changed from when they were first published but the stories have been retold in so many different ways since then. And these stories make me want to bang my head against a wall.
Repeatedly
. Was miscommunication a sign of the time back then? It still runs rampant today but not for years. Sorry, I'm not a fan of histories best.
I am more of a contemporary reader. I like books set in the present time although there are many that are set in the past that I love too. Yeah, I contradict myself sometimes. Ask my husband, he'd be very happy to tell you that. I'm going to contradict myself all of the place here and say my top three favorite romances are not of these times.
The Madness of Lord Ian Mackenzie
is a historical romance and the hero would now be know to have Aspergers but at the time was thought to be mad. The love that Beth shows for him in how she cares for him and defends him is wonderful to read.
The same can be said of Zsadist and Bella in
Lover Awakened
. Zsadist is the ultimate bad boy. He has the scars and bad attitude to prove it. My favorite storyline is the bad boy reformed by the love of a good woman. It's a different kind of love in
The Notebook
. I don't think Edward Cullen sets the bar for guys- Noah Calhoun did. He built a house for Pete's sake! And the movie adaption is one of the best movies ever made.
When I think of romance novels though, I automatically think of Nora Roberts. There are many wonderful romance authors but a Nora Roberts books is an automatic buy for me. I don't wait for reviews or to borrow it from the library. I even Pre-order so they are already there on my Kindle when I wake up in the morning. I thought about writing this whole post about Nora Roberts books but thought that might be overkill. Right? So I just picked my three favorite again. Or my three favorite at this time.
One of my favorite things to read are series romances. I like when characters you love pop back up again in another story. In
Rising Tides
, we had already met Grace and Ethan and knew they liked each other but got to see that love grow out the friendship zone they had been in. Grace loved Ethan even though he thought he was forever damaged and her loved healed him. Roxy and Luke in
Honest Illusions
grew up together as well and seeing how their relationship changed over the years is what a true romance is. It was the opposite in
Jewels of the Sun
. Jude was a shy, quiet girl who was brought out of her shell by the bartender she just met Aidan.
Romance novels are a society staple. After all, they make up 44% of all book sales. Romance novels make me happy and can pull me out of a funk. The couples I read about become real people to me that I cheer for and want to smack upside the head. They make me laugh, cry and laugh out loud.
Do you have a favorite romance novel?
Rules:
To join in...
1. Please follow the host and co-host
2. Visit a few other book chat links and show some support.
3. Link back here in your post. Or use the button provided.
4. Old posts are always welcome if you have blogged on the topic before.