Happy Birthday Book Chat!
I so excited that my absolute favorite linkup is celebrating it's first birthday. Jessica from
Sweet Green Tangerine
has hosted the book chat for a year now and I'm pretty lucky to have been able to co-host a few of them with her. She's also one of my favorite blog friends and I love that we have the same taste in books.
This week's chat is to revisit a topic from the past year. I didn't discover the book chat until last fall so I decided on one that I hadn't wrote about yet. It was a little tough to narrow down but I went with "your favorite quotes" from last August.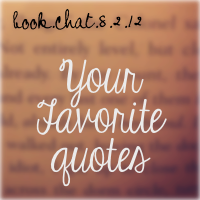 One of my favorite things about books are the fun dialogue they have and the snarky inner thoughts of a character. To me dialogue can make or break a book and believe it or not, a lot of the stories that I've read in the last few years have had a problem with this. I love hearing characters have conversations like I would have in real life and I've even stole a line or two to use in my conversations. One of the best things about my Kindle is being able to highlight my favorites.
I like the ones that end up as pop culture...
"Laters, baby."
―
E.L. James
,
Fifty Shades of Grey
And the ones that make me laugh out loud when I am reading....
"You'd be surprised how many people in the modern age no longer fear zombies as much as teletubies."
― Sherrilyn Kenyon, Dream Warrior
But the ones I love the best are ones from my favorite series. I love talking about my favorite series "In Death" by JD Robb and "Black Dagger Brotherhood" by JR Ward. Many of these quotes I go back to time and again and I've read them so many times I can pinpoint exactly where they are in the book.
"We're standing here, beat to shit, walking away from a crime scene where either or both of us could have bought it, and you're asking me to marry you?"
"Perfect timing."
― J.D. Robb, Glory in Death
"I want to see you again." He stopped, took her face in his hands. "I need to see you again."
Her pulse jumped, as if it had nothing to do with the rest of her. "Roarke, what's going on here?"
"Lieutenant." He leaned forward, touched his lips to hers. "indications are we're having a romance."
― J.D. Robb, Naked in Death
"A cop? You married a bloody cop?"
"
I
married a bloody criminal," Eve muttered, "but nobody ever thinks of that."
― J.D. Robb, Vengeance in Death
"Okay. Look, why don't you take care of the half a million things you've been letting dangle in Roarke's Empire of Everything?"
"Catchy title. I may use it one day."
― J.D. Robb, New York to Dallas
"I was dead until you found me, though I breathed. I was sightless, though I could see. And then you came...and I was awakened."
― J.R. Ward, Lover Awakened
"You are a manipulator.
I like to think of myself more as an outcome engineer."
― J.R. Ward, Lover Eternal
"What is your name?" she murmured.
He cocked an eyebrow at her and then went back to staring at his brother. "I'm the evil one, in case you haven't figured it out."
"I wanted your name, not your calling."
"Being a bastard's more of a compulsion, really. And it's Zsadist. I am Zsadist."
― J.R. Ward, Lover Eternal
"After a moment, Wrath turned to John. "This is Lassiter, the fallen angel. One of the last times he was here on earth, there was a plague in central Europe-"
"Okay, that was so not my fault-"
"-which wiped out two-thirds of the human population."
"I'd like to remind you that you don't like humans."
"They smell bad when they're dead."
"All you mortal types do."
― J.R. Ward, Lover Enshrined
And there are the quotes that aren't necessarily from books but are about books or from my favorite authors. I'm not too picky on classifying these but I've wrote each of these down at different points and they are some of my favorites. Ever.
"Those who mind don't matter, and those who matter don't mind."
―
Bernard M. Baruch
"A room without books is like a body without a soul."
―
Marcus Tullius Cicero
"So many books, so little time."
―
Frank Zappa
"Friendship is born at that moment when one person says to another: "What! You too? I thought I was the only one."
―
C.S. Lewis
"Romance novels are birthday cake and life is often peanut butter and jelly. I think everyone should have lots of delicious romance novels lying around for those times when the peanut butter of life gets stuck to the roof of your mouth."
―
Janet Evanovich
Stop by the book chat and wish Jessica a happy book chat birthday and see what some other favorite topics. Thursday is a great day!