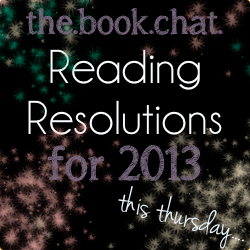 I mentioned the other day that I'm not one to usually make resolutions (because I usually break them quickly) but I absolutely get behind the idea of reading resolutions. My resolutions for 2013 are...
2. Volunteer At Storytime - Our local library has a wonderful storytime program and I think that my youngest is at the age where we can participate in the sing-a-longs and crafts come at the end. And we can make new friends.
3. Read outside my comfort zone - I usually stick to the romance genre 99% of the time whether it's historical or contemporary and when I've stepped outside that zone a few times (The Night Circus) I was pleasantly surprised. I'd also like to read a few more of the classics this year as well. Can you believe that I've never read Jane Eyre?
4. Balance paperback vs. ebooks - I've read almost 100% on my iPad or Kindle Fire in the last two years and I find that I've missed the feel of a good book. My daughter has been reading a lot this vacation and watching her holding a book is like looking in the past and made me realize that I didn't know the last time I read a paperback that wasn't a cookbook.
5. Read More - Pretty simple. Reading makes me happy and who doesn't like to be happy? I signed up for the Good Reads challenge again this year and my goal is 60 books. It's a little more than a book a week but I know I can do it.
Brighton
has
read 0 books toward her goal of 60 books.
6. Involve The Kids In Books - All three of my kiddos love books. I love that they love books too. I'd rather buy them a book than a toy and I've done it. But now there are all kinds of projects and coloring pages that go along with some of their favorite books that I kinda don't know where to start. Books like Chicka, Chicka, Boom Boom and The Very Hungry Caterpillar have hundreds of ideas on Pinterest alone.
I think I like book resolutions better than the "get fit/eat healthy" resolutions of the past. Do you have any favorite books that I should try out this year? I'd love some suggestions!