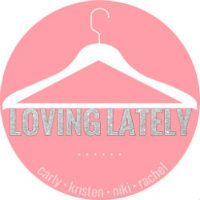 This weeks Loving Lately is all about Thanksgiving. Can you believe that Thanksgiving is two weeks from this Thursday? This is the only full week of school my kids have this month between conferences, Deer Day and Thanksgiving so I need to make sure I've got my lists together because time is limited this month.
i'm loving...things for kids to color

None of my kiddos like to be on the sidelines during the holidays. They like to be right in the middle of the "action". Yeah, that usually leads to someone under feet, perhaps a drooped something and a few "don't eat that yet"s so giving them something to color and play with is a lifesaver.
i'm loving...fun questions

The big kids are getting old enough to answers questions and give their opinions on things, they give their opinions on a lot of things, but I like to ask them a few questions and see how they change from year to year. And the "I said that"s are hilarious.
i'm loving...fun centerpieces for kids

Again with the cute for kids. If it's cute, they will play with it. If it looks like something, they will play with it. It's win/win.
i'm loving...cute favors
And if all else fails...give them some candy. Yeah, candy's bad, it was just Halloween and they will spoil their appetite. Nope, I've never had one of my kiddos open these before dinner. They are way to much fun to play with to eat right away. They can make them walk, talk and gobble. Instant toy.
i'm loving...grown-up centerpieces

Because Thanksgiving isn't all about the kids in our house I like to add a little rustic touch to the table. You can add things that you are thankful for to the little circles as well.