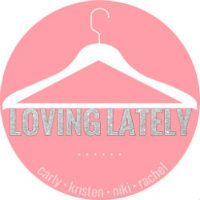 It's so pretty this time of year. The leaves are full of color outside and I love watching the farmers move their harvest up and down the road. I live in farm country y'all. I see tractors and milk trucks go up and down my road on a daily basis. All my loves are fall inspired this week.
i'm loving.... ponchos
It's cooling down more and more everyday and while I don't want to bust out the winter coat just yet, the spring coat's not cutting it anymore. I love how these ponchos are cozy and just the right bit of warmth. And you can't tell if I'm wearing a old t-shirt underneath.
i'm loving...rain boots
I love rain boots for the same reason I love ponchos. I'm not ready to wear the winter clothes yet but the summer clothes are make me look like I can't read a forecast. And they are so cute!
i'm loving...cinnamon honey butter
I love, love, love this recipe! It's tastes almost exactly like the one at my favorite restaurant. I can now have the same goodies at home.
i'm loving...learning about iCloud
I'm in the process of moving all of my files, etc over to MAC and it's a little more intimidating than I expected. This has been so helpful.
i'm loving...the playoffs are here.
Well hello Central Division Champs! The playoffs are here and as I write this the Tigers are up 2-0 over the A's. It make my really crappy day better if they would win. Please?