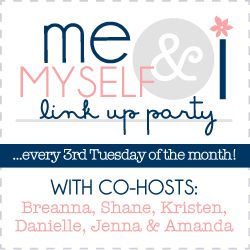 I've seen all of the great MM&I posts the last few months and I did not want to miss this one. One of my goals for this blog is to put myself out there a little more and I'm thinking this is a great place to start.
1)When you're feeling down, what do you do to pick yourself up?
I read a happy book. I have a go-to shelf of books that are pretty much a guarantee in making me feel better.
2)If you had to live in a different time period which would you prefer?
I would have loved to live in the Roaring Twenties. I love the idea of seeing first hand all the jazz music, woman's movements and the introduction of modern technology.
3)What is the most creative Halloween costume you've ever worn?
I've always been pretty boring when it came to Halloween costumes so my most creative was probably the year I was a witch but I had a homemade cape and dress with lots of sparkle and lace. It wasn't sure creative but it was really pretty!
4)Five weird things about you we wouldn't know without being told?
1. I like to eat spaghetti sauce on tortilla chips.
2. I've been known to sleep with my eyes open when I'm really, really tired.
3. I can remember song lyrics from 20 years ago but not I heard less than 24 hours ago.
4. I can walk several feet with up to three books on my head.
5. I can't have my food touching on my plate. At all.
5)What would you tell your 16-year-old self?
I would tell her to slow down. To not be in such a hurry to grow up. Enjoy being a teenager and focus on school and sports and not what I'll be doing in college. Enjoy the now. I would also tell her that Jay was a big tool and the next time he calls to blow an air horn the speaker and then block his number.