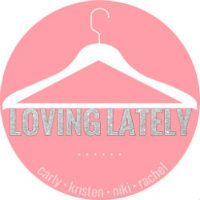 It's getting cold here. Like I have to wear my jacket everyday cold. Pretty soon we'll have to whip out the gloves and hats. This week I'm loving a lot of fall things because I'm sure you haven't noticed that I am so happy fall is here and I'm loving a few things for just me. Tell me, should I bite the bullet and get a tattoo someday?
i'm loving... trying new hairstyles
I had cut my hair shorter at the beginning of spring and it's now long enough that I can pull it back in different ways and not worry about it falling out. That and ponytails are becoming very monotonous.
i'm loving... fall clothes.
I've stared to pull out all of my fall clothes and I'm a big fan of layering. I love a collared shirt under a sweater and a t-shirt over a long sleeved tee. I'm taking the plunge and trying out the legwarmer look this fall too. I'm not too old am I?
i'm loving... the idea of getting a tattoo.
I
think
I want a tattoo. Maybe. Someday. Probably not soon, if ever, but if I did I would want this one. I love dandelions and the the little birds coming out of the fuzz is so elegant. But I'm super scared of needles and the idea of needles hitting my skin over and over, nope nor brave enough.
i'm loving... little mini food.
Isn't mini food adorable? I love making mini cupcakes and cakepops. I found a cookbook about mini food and I'm loving it! And I think that smaller food has smaller calories, right?
i'm loving... fall crafts.
There are so many cool crafts to do this time of year. There are grown up crafts for me and fun things for the kids. One of the boys favorite things to do is "collect" all kinds of cool leaves and various things from the woods out back and they like to display them. I like to display them in a way so that there aren't dried out leaves and acorns everywhere. Win, win.
i'm loving... pretty much anything with apples in it.
Last week I was on a apple kick and I still am. I had the most delicious apple turnover this weekend and now I'm on a mission to make my own. In the meantime I'll eat these.
linking up with...