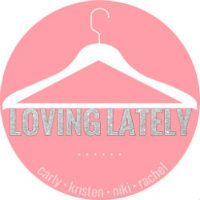 I'm pretty excited to participate in a new weekly link up from
Carly
,
Kristen
,
Niki
, and
Rachel
all about what you're loving lately.
i love watching... football
Football season has begun and I love it! Some of my favorite memories are going to UofM football games and feeling the energy in the stadium. There's really nothing like it. And I hope at least one of my boys grows up to like football because it's kinda lonely watching the games by myself.
i love decorating... for fall
I love decorating for fall. There's so many choices to make and different styles to choose from. And the fall smells are some of my favorite- apple, cinnamon, and pumpkin. They also make me hungry too.
i love wearing... scarves
Another thing I love about fall- layering clothes. I love wearing my scarves in the fall and there are so many ways to wear them. But I'll never wear it around my waist. Not gonna happen.
i love making... envelopes
It always seems like this time of year I'm always giving out cards; birthdays, holidays, and just because cards, it's never ending. And I don't like boring envelopes. I like to make mine stand out. I like to make them look like "hey I want to open that one first" because sometimes just getting a card is "just a card" and you throw it away. I don't want mine thrown away.
i love making... blankets
Can you handle another great thing about fall? Cuddling up on the couch with a nice, warm blanket. I always make the kids a new blanket for the fall. I started doing it mostly because I couldn't find one I liked for the price I wanted. Now we enjoy picking out fabric together and they like watching it come together. This one is a little more advanced than ones in the past but with the weather still being so darn warm, I've got plenty of time to finish.
What's your favorite thing about fall?
linking up with...