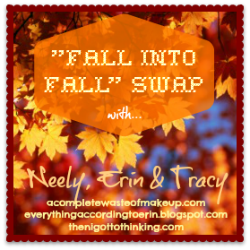 It's not secret that I'm a big fan of fall and when Neely, Erin, and Tracy announced their Fall Into Fall Swap I signed up right away. I've participated in a few swaps lately and I'm loving them. I've found a lot of great new blogs and met some wonderful ladies.
My swap partner as Amber from A Little Pink in the Cornfield and I thinks she's pretty awesome. Amber writes wonderful and funny posts on her blog about being a city girl in Iowa. She'll tell you all about what I sent her but I want to rave over what I received.
The theme was obviously fall and I said that I liked anything fall except for roosters. I had no idea roosters were now a fall themed animal (at least they are around here now) and I'm kinda scared of them. Which is really unfortunate since we have two. They stay in their part of the yard and I stay in mine. So far it works out, but anyway, I was pretty surprised when I opened my box with all my goodies inside.
How cool is this little notepad? The colors and design are just my style and the circle notes are so cute. I like writing on cute paper.
These are the neastest post-it notes I've ever seen. In case you can't see it one pad says "Don't even ask" and the other says "On the same page". They fit right in with the lister in me.
One of the other things I mentioned was that I loved the scents of fall and what says fall better than cinnamon and cider. I may never burn it and just crack the lid to smell it everyday it smells that good.
And this is the only shot of the yummy carmel Hershey Kisses that Amber sent too because they were gone by the next day. I did manage to eat a few but when I went back to the candy dish they were gone (mistake #1 was putting them there in the first place). The mystery of the missing candy was solved the next morning when I found a wrapper stash in my oldest boys bedroom. Sneaky little guy.
Happy Fall Y'all!