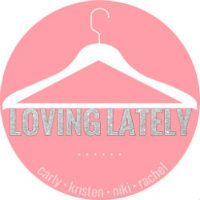 I'm pretty excited to participate in a new weekly link up from
Carly
,
Kristen
,
Niki
, and
Rachel
all about what you're loving lately.
What am I loving lately...
what i'd love to make...
♥ this is so unique and I'm pretty sure the Big Boy's teacher is going to love it.
what
i'd love
to read...
♥ I heard a lot of good things about this book lately and there's not time like heading in to the holiday season than to get rid of excess...right?
what i'd love to buy...
♥ One of my favorite things about fall is the smells. I love the smell of cinnamon, pumpkin and apple pie. I love this time of year when we are on the bring of fall.
what i'd love to watch...
♥ I really need to sit down and watch this movie. Everyone I know is telling me how funny it is but all that my tv seems to get is Dora the Explorer and Tosh.0.
what i'd love to do...
♥ Fall is coming and so is playoffs. I am a Tigers fan all the way and it's coming down to the wire. I look good in orange and blue.